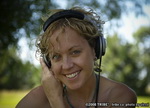 Lady Bass
Genres: Nu NRG, UK Hard House, Hard Trance, Hard Dance, House, Tech-House
Affiliations: LadyBass.net, CHILLS DJs
Bio: Lady Bass began DJing over 22 years ago while working for an internet radio station. She started out playing all different styles of music, during a weekly online show, but she always knew that her love for hard music would one day take her in a new direction.
Today you can find her behind the decks spinning up a storm, UK Hard House, Nu NRG, Hard Trance, House, Tech-House and Electro styles! She has played everywhere from Montreal to Calgary, as well as in parts of the US – sharing the decks with some of the world's top DJs!
Her influences are the many DJs in the Toronto and International underground, club, rave, and electronic music radio scene. She is also very influenced by the style of her DJ partner Toronto's own KenFinch.ca/DJ Viper who taught Lady Bass a lot about DJing. Lady Bass, a member of the CHILLS DJs also hosts events in Toronto through her own promotions company – Bring The Bass Events! She also has several rave company residencies, has held down various club night residencies and has headlined many events across North America. She has also hosted and DJed on several FM and internet radio shows including her own show – Bring The Bass Radio with Lady Bass on Digitally Imported Radio (di.fm) which can be heard as a weekly podcast.
For bookings, or to reach Lady Bass, email dj@ladybass.net.